Dogs and Cats will love the stay!
Request a reservation here with our online booking reservation tool
Drop-off & Pick up       
---
Check-in
Our Daily rate begins the day you Check-in
Check-out
Check out between 10:00am and 6:00pm is automatic extra days charge applied to your bill.  Check out between 8:00 am to 10:00 am and you do not pay for that day!
No pick ups or drop off from 12 pm-2 pm
Why? We have nap time for our animals from 12-2 pm every day. This gives a chance for our staff to do required errands, take a break, do extra cleaning, or eat lunch, plus gives your pet a chance to have some downtime and rest.
Rates for Dog Accommodations       

---
We now have 2 locations to choose from!
The Lodge located behind the Buffalo High-school  or
The Ranch located on Highway 55 east of Buffalo, west of Rockford
The Lodge with 18 Private Cabins/Suites 
Prices starting at $35.00 per night for one dog at both the Lodge and the Ranch
Two dogs, same family in same Cabin Suite, $60.00 per night for both dogs
Three dogs same family in same Cabin suite, $85.00 per night for all three-for 3 or more dogs we have our family suite at the Lodge, which is 10 x 12 feet in size!
*VIP Extra Large Suites for VIP pampered pets $59.00 per night first pet, $25 for the second pet same room -2 VIP Large rooms available
*VIP Small Suites for VIP pampered pets $49.oo pet night first pet, $25 for second pet same room-2VIP small rooms available!
*Standard boarding rooms-$35.00 per night first dog, $25 for each additional dog in the same room.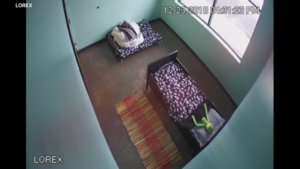 At your request, we have rooms in both locations that can accommodate the same family dogs and cats in the same quarters.
All rooms in both locations have premium Kuranda beds for your dogs comfort!
You can bring your dogs favorite blanket and bed, or we can supply one.
If your dog has special needs, such as shots or medications, or behaviors, let us know. We can accommodate almost anything!
Don't forget to book your grooming or manicures with Marilyn! *Extra charges apply for grooming services. Please ask for availability when making your boarding appointment!
NEW!!! Marilyn is available on Fridays at the Ranch location!
Doggy Daycare      

---
NEW Doggy Daycare 1/2 day rates! You ask and we listened!
The Lodge: Drop off in the mornings starting at 6:30 am to Noon and pick up in afternoon from 2:00 pm – 6:00 pm
The Ranch: Drop off in the morning starting at 6:00am to Noon and pick up in afternoon from 2:00pm-6:00pm
Monday through Friday full day weekday rates: $20.00 per dog per day (over 4 hours)
Monday through Friday 1/2 day weekday rates: $12.50 per dog per day (under 4 hours)
Weekend Rates: $25 per dog per day (Over 4 hours)
Weekend 1/2 day rates: $15.00 per dog per day (Under 4 hours)
or buy a 5 day package for $100.00, and your dog can enjoy weekends with rates that stay at $20 per dog per day!
We may be flexible here on times, just ask!!!
Why do doggy Daycare?
Great way for socializing and tiring young active pups!
Daycare for puppies creates well rounded adults and allows for healthy opportunities to socialize with other pets of various sizes, colors, ages, and new people which is so important to a dogs mental well-being. Good socialization generally helps prevent anti-social behavior, increasing their confidence in the world and mellows their temperament.
Daycare offers a safe and constructive place for your dog to have fun burning off energy, running and playing while you are at work or shopping.
Fat dog? While doggy napping is allowed at daycare, most choose to play the day away with their pals!
Your pet will be surrounded by staff who are passionate about animals, and will arrange constructive games, bring toys, and plan activities for the animals to make the most of their time at the Inn. Weather depending we might go outside for play, or stay indoors.
Being in doggy daycare a few times a week will keep your pup mentally stimulated, physically active; meaning he will be less likely to get into destructive problems at home.
Your pup will also be exhausted by the time he is picked up, meaning you will get a free, no walk required night!
You get peace of mind knowing that the dog is receiving care, without worrying about him digging through the trash,  barking all day or night, or looking for an escape route.
The down side is your pet may not want to leave Ruffin' Inn at the end of the day when you come to pick him or her up!
Rates for Cats and Small Critters  

---
We have our spacious cat condos, or the large deluxe glass small animal/cat Atrium, with multiple window seats for your cat to sunbath, watch the birds at the window bird feeder, or just lounge in the sun!
Cat Condo Rates

First cat $20.00 per night, second cat same family $18.00 per night at both locations!

Cat Atrium Rates

First cat $30.00 per night, second cat same family $18.00 per night at the Lodge only!
For those cats that are afraid of dogs, know the cattery, or small critter room is housed away from the dog suites!
The atrium doubles as a great place for cats, small dogs and other critters.
*Dog rates apply if atrium is used for small dogs.
If your pet has special needs, such as shots or medications, or behaviors, let us know. We can accommodate almost anything!
We also welcome other family pets for boarding, such as rabbits, and even the smallest of fur family members.
Pet Lodge Amenities & Accommodations   
---
Complete climate controlled environment air conditioned in the summer with large indoor play area! Let it rain!!
Kennel-free dog suites
24/7 Camera security monitoring
Professional security monitoring 24/7 for your pets safety
Indoor and outdoor play several times a day (weather dependent)
Raised Kuranda bed for comfy rest time, blanket and beds if requested
Gentle Music
We do recommend bringing your dogs regular food from home to avoid and upset stomach.
We can provide a high quality non-grain dog food, NutriSource, at an extra charge at your request at a cost of $2.00 per meal per pet, or you can save hauling food by purchasing a bag of dog food when you drop off your pet.
We sell made in Minnesota, high quality NutriSource dog & cat food and Taste of the Wild dog food products! Stop by for free samples of NutriSource and Taste of the Wild Dog food, or grab a freebie when you come for a tour! Join the frequent buyer program-Buy 12 bags of NutriSource dog food and get the 13th bag free!
Special diets or daily medications will be given per your instructions, at no additional cost.
Loving attention and play, while you are away!
We do not discriminate and welcome all breeds of dogs.
We support animal rescues and will give reduced pricing ($15.00 per night for homeless dogs, $10.00 per night for homeless cats!) to cats and dogs who are in rescues or foster care! Call for more details!
If you need a special time for drop off or pick up please give us a call as we would be happy to accommodate you!
Call 763-682-4247 to set up your stay at the Ruffin' Inn Pet Lodge and Ranch!
We highly recommend you come for a tour first, before you book your stay!
* Prices subject to change without notice
Proud Member of: