There are no objects in this facebook feed.
Why do doggy daycare?
Great way for socializing and tiring young active pups!
Puppies can start as soon as able, when they have their bordetella, 2 distemper vaccines, negative fecal and approval by your vet!
Did you know puppy "imprint" age is 4 to 16 weeks! Making sure they get exposed to many different things such as dogs, humans, critters, sounds, ect is so important to their adult mental health!!! If you miss it you may have issues with anxiety, aggression or fearfulness, that will stay with your pup into adulthood. Keeping your pup home and isolated will potentially not be beneficial for your pet!
Daycare for puppies creates well rounded adult dogs, allows for healthy opportunities to socialize with other pets of various sizes, colors, ages, and new people which is so important to a dogs mental well-being. Good socialization generally helps prevent anti-social behavior as adults, increasing their confidence in the world and mellows their temperament.
Daycare is fully supervised and offers a safe and constructive place for your dog to have fun burning off energy, running and playing while you are at work or shopping.
Dogs learn from each other things that humans can not possibly teach them! Having a dog that knows doggy etiquette and social cues will create a dog that interacts well with other canines in any setting.
Fat dog? While doggy napping is allowed at daycare, most choose to play the day away with their pals!
Your pet will be surrounded by staff who are passionate about animals and will arrange activities to make the most of their time at the Inn. Weather depending we might go outside for play or stay indoors. We have indoor and outdoor play equipment for them to play on all day!
Being in doggy daycare a few times a week will keep your pup mentally stimulated, physically active; meaning he will be less likely to get into destructive problems at home.
Your pup will also be exhausted by the time he is picked up, meaning you will get a free, no walk required night!
You get peace of mind knowing that the dog is receiving care, without worrying about him digging through the trash, barking all day or night, or looking for an escape route.
The down side is your pet may not want to leave Ruffin' Inn at the end of the day when you come to pick him or her up!
Drop off at The Lodge (Behind Highschool):
Drop off in the mornings starting at 6:30 am to Noon and pick up in afternoon from 2:00 pm – 6:00 pm
Note Price Increase for Daycare February 1st, 2021!!
February 1st, 2021 daycare prices will increase $1 to $2 per day depending on length of time your pup stays for the day. (Those who have purchased packages prior to this date will get to continue to use the pre-increase pricing.)
Daycare Pricing after January 31st, 2021:
Monday through Friday full day weekday rates: $25.00 per dog per day (over 4 hours)
Monday through Friday 1/2 day rates: $16.00 per dog per day (Under 4 hours)
Saturday, Sunday and all major holidays, full day rates: $30.00 per dog per day (Over 4 hours)
Saturday, Sunday and all major holidays, 1/2 day rates: $20.00 per dog per day (Under 4 hours)
or buy a 5 day package for $110.00, and your dog can enjoy discounted weekends with rates that stay at $22 per dog per day 7 days a week!
Daycare Pricing through January 31st, 2021:
Monday through Friday full day weekday rates: $23.00 per dog per day (over 4 hours)
Monday through Friday 1/2 day rates: $15.00 per dog per day (Under 4 hours)
Saturday, Sunday and all major holidays, full day rates: $28.00 per dog per day (Over 4 hours)
Saturday, Sunday and all major holidays, 1/2 day rates: $18.00 per dog per day (Under 4 hours)
or buy a 5 day package for $100.00, and your dog can enjoy discounted weekends with rates that stay at $20 per dog per day 7 days a week!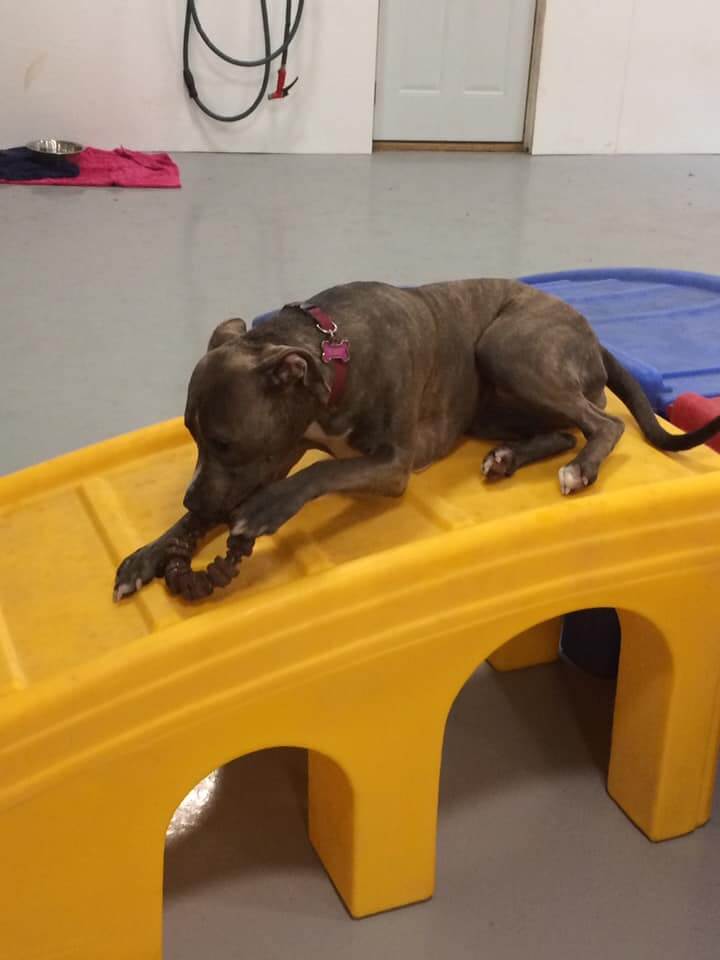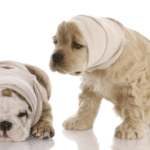 Sick fur-kid???
Boarding and daycare for dogs is fun, gives them opportunities to socialize with other dogs and people, in a controlled environment, lets out some crazy energy and just lets them have a good time with canine friends. Ruffin Inn believes dogs that can socialize in groups are less stressed when boarded, have a way to release energy when pet parents work, and gives them an opportunity to gain confidence in a group setting. All canine parents need to be aware that dogs playing in groups can spread diseases, just like children in daycare, and either its good for their immune system or not. All dogs need to be healthy to play in groups period, be current on vaccines and on flea and tick preventatives. In a perfect world there is no disease or sickness to worry about but our world is anything but perfect! Pet parents YOU know your pets health, behavior, demeanor best and we rely on you to make this judgement call on their health before you drop them off with us!!! We want to keep our play packs happy and healthy and need your help! Because we care about all our boarding and daycare dogs, if your dog has any of the following symptoms, please call and see if your pet is safe to board or come to daycare. It may be best to skip daycare for a day or two to find out if it's serious.
Please keep your pets home if any of the following are present in your pets!
*Super sleepy in the morning – Does your pup not want to get out of bed (not to be confused with lethargy)? Your dog probably needs a day of rest from daycare. Stay home!
*Vomiting or diarrhea – These are common symptoms for dogs that can be something benign like they ate to much junk, or something serious like parasites. If you know your dog ate something weird or you switched their food, they are probably OK for daycare, but PLEASE let us know! If you don't know what's going on, your pup needs to take a day off. If it continues for more than a day or two, go to your vet to see if it's serious.
*Runny nose or sneezing – This could be allergies or a contagious illness like kennel cough. It's best to take a day to see if your dog's symptoms subside or get worse before returning to daycare. If they continue, see your vet and keep your dog home!
*Coughing, hacking, gagging– Again, this might be something serious like Canine influenza, Kennel Cough or perhaps your dog just inhaled some pollen or ate something weird. Stay home!
*Blood in stool – This could be a sign of gastro-intestinal upset, parasites or giardia, or your dog could have had a hard stool, eaten something hard, or be stressed. Blood in the stool is always a reason to keep your dog home! If it persists see a vet for help! Parasites are just waiting for any opportunity to find a host, please be proactive in helping your pup fight these little creatures off, plus we do not want them here!
*Scratching – Persistent scratching at ears or body, could be allergies or worse, fleas! For unknown itching bring your dog to your groomer or vet and have them checked for fleas or mites. We do require all dogs to be on monthly treatment. Never drop your dog off with a known home flea infestation at daycare, or if they have new itches and you don't know why. Rabbits, mice and wildlife that come into your yard, carry both fleas and mites, even that dead mouse fluffy left for you will harbor yucky fleas, mites and even set your pup up for some nasty tape worm. If your dog finds a rabbit nest, or finds a dead rodent, they are susceptible!!!! Fleas carry disease! Prevention is so worth it!!
*Limping – Your dog might have exercised too hard and needs some rest. Let him rest for a day or two at home. If still limping, go to the vet. You don't want them playing in daycare as dogs will pretend they are OK around the group and could strain what ever they hurt even more rather than letting it heal. Rest your super-dog!
*Hacking, clearing their throat or Honking – Dogs that make a loud sound like a hack, throat clearing or honking could have kennel cough. If it does not go away in a day or two, it's best to go to the vet to check it out. The intranasal bordetella vaccines for canines is only 70% effective for kennel cough, but even less effective if you do the intramuscular bordetella vaccine, which hopefully most vets do not use! We also highly recommend the canine influenza vaccine if your dog is coming to daycare!!!
*Orange gel in stool – This is typically a sign of giardia and a bit different than regular blood in stool. Just stay home!! See your vet! Giardia is also found in rivers and standing water, if you take your dog hunting, swimming at your cabin or even have a water puddle on your property they could have contracted giardia, also know as Beaver fever as Beavers carry this parasite. Some dogs can be giardia carriers just like beavers and show no symptoms. This is why a fecal test done yearly is required for intestinal parasites, among other things required for all dogs at Ruffin Inn!
*Fatigue – Not to be confused with being tired. Fatigue is when your dog is having a hard time doing what he loves and is not himself. Stay home!! This definitely warrants a trip to the vet's office.
*Loss of fur – Dogs suffer from many skin conditions that can result in loss of fur. Whether it's contagious, like ringworm, fleas or mites, or as a result of allergies, it's never normal and you should go to your vet.
*Eye gunk – Persistent eye goo may be allergies or an infection and should be treated. Stay home and see your vet!
*Black ear gunk + pink ears – Having lots of black tarry earwax with red ears is a sign of an ear infection or ear mites and should be treated immediately. Yes, stay home and see your vet! Ear mites are parasites and parasites love a party! Goopy ears are a reason to stay home!!!
*Exhibiting pain – Dogs like to mask pain or injury, so if your dog is yelping for any reason, you should go to the vet. We do not want a painfully irritated dog in a play group!
*Parasites in stool – YUCK! Time to go to the vet and in a hurry. We definitely do not want your pup here! If you do have parasites you must stay home till you have a negative fecal test!
*Facial or paw warts – They are ugly, contagious, and are as a result of low immune support (puppies are most susceptible). Ask your vet but for puppies it may be helpful for an immune booster and at least 2 weeks of rest with NO DAYCARE if warts are present. The wart will fall off.
Also to note that mange, ringworm, giardia, roundworms and tapeworms are zoonotic – that means you can get them! If your dog has been diagnosed with any of these, please keep them home till all meds are completed and, or they have been cleared by a vet to return to daycare, or are safe to be boarded.
If your pet has experienced any sort of sickness that is potentially contagious as stated above, make sure to complete all medications and get an all clear note stating they are no longer contagious from your vet. Please do not bring your dog back before your medication or treatment is completed unless OK'd by your vet and you have discussed it with one of our staff.
In essence, please don't bring your sick dog to daycare, assuming he got sick from daycare, so it must be okay to bring him back to daycare. Sick dogs are never okay to mingle and always need to seek treatment if they do not recover in a timely manner. If your dog is sick or becomes sick, please let us know immediately. If they show signs of sickness at Ruffin Inn, we will call you! Please don't ignore signs and symptoms, like runny noses, itching, coughing, hacking, limping or fur loss. While it might be nothing, it also could be something.
Ruffin Inn Cares about our pet community, we love our boarding and daycare dogs, we want to keep our pet community safe, healthy and happy. If you are concerned your pet is getting sick please keep them home to rest. If you are unsure please call, text or email us right away to ask if they can come to the Inn. Thank you!