Dog Daycare allows a break from home and a great way to socialize your dog
Daycare is a great way for socializing and tire young active pups!
Puppies can start as soon as able, when they have their bordetella, 2 distemper vaccines, negative fecal and approval by your vet!
Did you know puppy "imprint" age is 4 to 16 weeks! Making sure they get exposed to many different things such as dogs, humans, critters, sounds, ect is so important to their adult mental health!!! If you miss it you may have issues with anxiety, aggression or fearfulness, that will stay with your pup into adulthood. Keeping your pup home and isolated may create social challenges with your pet that can be difficult to train at later ages.
Daycare for puppies creates well rounded adult dogs, allows for healthy opportunities to socialize with other pets of various sizes, colors, ages, and new people which is so important to a dogs mental well-being. Good socialization generally helps prevent anti-social behavior as adults, increasing their confidence in the world and mellows their temperament.
Daycare is fully supervised and offers a safe and constructive place for your dog to have fun burning off energy, running and playing while you are at work or shopping.
Dogs learn from each other things that humans can not possibly teach them! Having a dog that knows doggy etiquette and social cues will create a dog that interacts well with other canines in any setting.
Exercise is a great way to ensure your pet stays healthy. While doggy napping is allowed at daycare, most choose to play the day away with their pals!
Your pet will be surrounded by staff who are passionate about animals and will arrange activities to make the most of their time at the Inn. Weather depending, we might go outside for play or stay indoors. We have indoor and outdoor play equipment for them to play on all day!
Being in doggy daycare a few times a week will keep your pup mentally stimulated, physically active; meaning he will be less likely to get into destructive problems at home.
Your pup will also be exhausted by the time he is picked up, meaning you will get a free, no walk required night!
You get peace of mind knowing that the dog is receiving care, without worrying about him digging through the trash, barking all day or night, or looking for an escape route.
The down side is your pet may not want to leave Ruffin' Inn at the end of the day when you come to pick him or her up!
Come in for a visit and ease your pet in by starting with a half day visit to see how they do.
Packages are available for bulk discounts as well – If you have multiple pets attending daycare ask about the family package discount.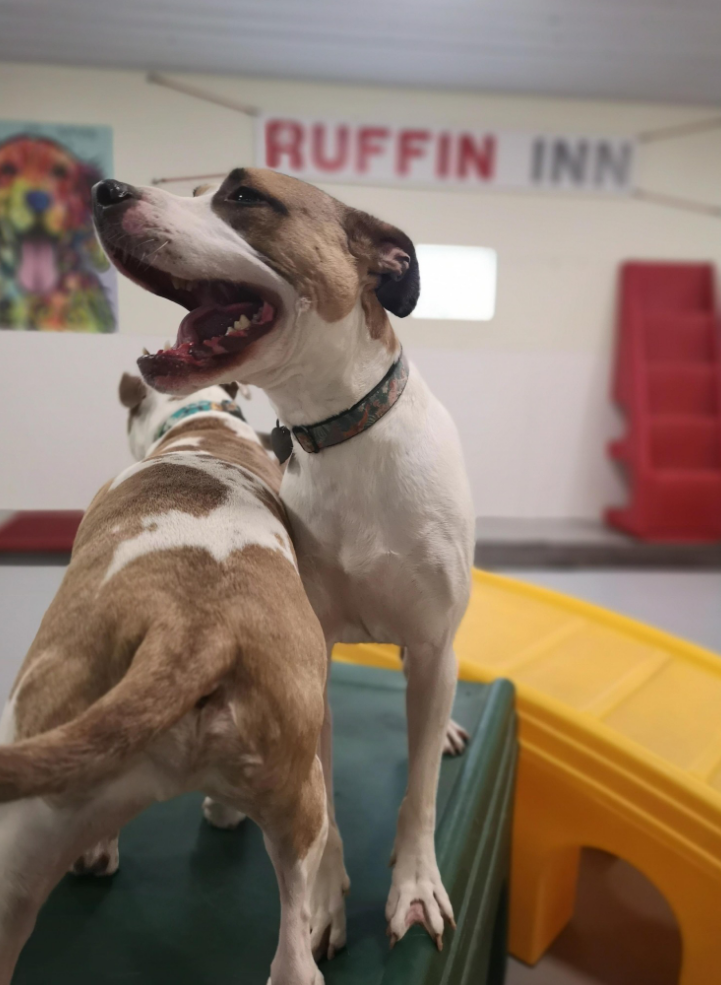 Also check out recent photos from Facebook for entertaining FUN!