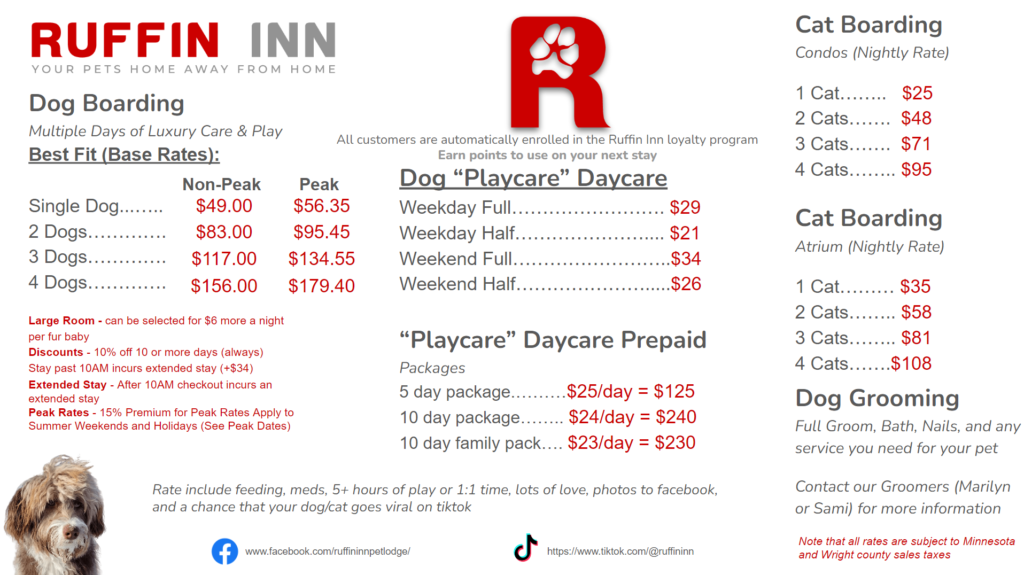 See our peak pricing dates here
Book through our online portal to reserve a reservation now.
Important Notes:
All pricing is controlled via booking portal. Please login and book reservation to view estimate information for most accurate pricing.
Our Daily rate begins the day you Check-in and Check-out cut off time is 10:00 AM every day! Check out by 10:00 am and you do not pay for that day. Check out after 10:00 am is automatic full days charge applied to your bill.
Doors are locked from 12-2pm every day which serves as break time for guests and daycare. At this time we do not offer pick ups or drop off from 12 pm-2 pm. This gives a chance for our staff to decompress, eat lunch, and gives your pet a chance to have some lunch or a much needed downtime and rest.
Boarding Rate - $49.00 per day per dog
Additional discounts are provided for multiple dogs sharing the same suite:
-Two dogs, same family in same suite, $83.00 per day for both dogs
-Three dogs same family in same suite, $125.00 per day for all three……for 3 or more dogs we have our Family suite at the Lodge, which is a large 10 x 12 foot suite!
All boarding rates are inclusive of 5 hours of play per day for all socially tolerant pets (no additional fees). All rooms are private, spacious suites with accommodations that include premium Kuranda beds for your pets comfort!
Ruffin Inn resides on 8 country acres with rabbits, deer, birds and lots of safe, outdoor, fenced areas for playtime!
Rates for Cats and Small Critters
Cat Condo Rates First cat $25.00 per night, second cat or more, same family $22.00 per night
Cat Atrium Rates First cat $35.00 per night, second cat or more, same family $22.00 per night
We have our spacious cat condos, single rooms, or the large deluxe glass atrium for cats and small animals, with multiple window seats for your cat to sunbath, watch the birds at the window bird feeder, or just lounge in the sun!
For those cats that are afraid of dogs, know the cattery, or small critter room is housed away from the dog suites! The atrium doubles as a great place for cats, small dogs and other critters.
Amenities & Extras
Complete climate controlled environment, air conditioned in the summer with large indoor play area!
We are Kennel-free, come tour and see where your pet will sleep before you board!
We use stress free colors throughout our building
24/7 Camera security monitoring
Professional security monitoring 24/7 for your pets safety by Wright Hennepin Security
Indoor and outdoor dog play several times a day (weather dependent). A tired dog is a good dog and we utilize play as an excellent tool in helping pets to acclimate to the new environment. Play is an excellent way for animals to burn off energy and this serves as an excellent way to eliminate anxiety for those dogs sensitive to separation.
For boarding dogs who are social in groups, we offer 5 hours of daily playtime under continuous supervision in groups that match the size and personalities of the pets.
All boarder rooms are supplied with a premium Kuranda bed for comfy rest time. We can provide blankets upon request, or bring your own!
Gentle Music and night lights in sleeping areas to help reduce stress.
We do recommend bringing your dogs regular food from home to avoid and upset stomach, but know you can purchase dog food and treats should you prefer to purchase on your arrival
We sell made in Minnesota, high quality NutriSource dog and Taste of the Wild dog food products which you can buy when you bring your dog for boarding and save yourself from hauling food from home!
Special diets or daily medications will be given per your instructions, at no additional cost.
Loving attention and play, while you are away, all part of our inclusive cost!
We do not discriminate and welcome all breeds of dogs.
We support animal rescues and will give reduced pricing ($25.00 per night for non-profit organizations who need help supporting homeless dogs and $15 per night for cats). Always reach out if additional help is needed.
Photos posted daily from small dog and big dog play groups!
We welcome other family pets for boarding, such as rabbits, and even the smallest of fur family members.